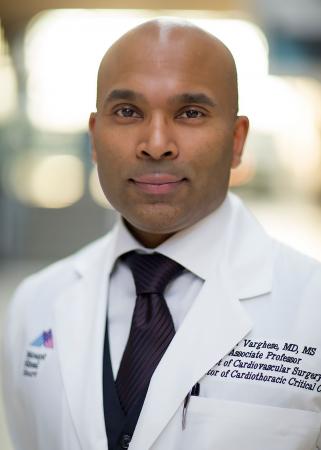 Robin Varghese, MD
Associate Professor
Department of Cardiovascular Surgery
Icahn School of Medicine at Mount Sinai
System Director, Cardiovascular Critical Care
Download Curriculum Vitae [PDF]
Robin Varghese, MD, is Associate Professor of Surgery in the Department of Cardiovascular Surgery. He completed his medical school, and residency in Cardiac Surgery at the University of Western Ontario in Ontario, Canada. After completing his board examinations in Cardiac Surgery he went on to complete specialty training in Critical Care providing him with the expertise to manage complex patients after heart surgery.
Dr. Varghese joined Mount Sinai in 2009 where he completed a 2-year fellowship in both mitral valve repair and aortic valve/aneurysm surgeries allowing him to be facile with a variety of heart disease including valve regurgitation, stenosis, aneurysms, coronary artery disease, Hypertrophic cardiomyopathy, and tumors of the heart.
He is a strong advocate of performing valve repair and not replacement when possible, and has taken an interest in minimally invasive techniques for mitral valve and aortic surgery including small midline incision and right anterior thoracotomies (left chest incision). For patients requiring coronary bypass surgery, he is also an advocate of multi-arterial revascularization strategies.
Along with his busy surgical practice, Dr. Varghese is the Director of Cardiovascular Critical Care for the Mount Sinai Health System including Mount Sinai Hospital, Mount Sinai Beth Israel and Mount Sinai St. Luke's Hospitals. In this role he strives to achieve outstanding quality based outcomes for all cardiac surgery patients who grace the doors of the Mount Sinai Health System.
Dr. Varghese believes that along with surgical excellence, meticulous postoperative care is required to ensure a great outcome for patients, as a Surgeon-Intensivist he is able to provide this complete package for his patients.
During his residency training he completed a Master's in Clinical Epidemiology at Stanford University, California. Using these skills Dr. Varghese is focusing his research efforts on clinical outcomes in mitral valve repair and aortic root/aneurysm surgery. In addition to his research efforts he regularly lectures medical students and residents and fellows.
Complementing his technical skill, Dr. Varghese is known for his empathetic bedside manner and takes the time to understand and listen to his patients. Using his surgical skills he has performed a number of medical missions trips in various countries including within various parts of India and the Dominican Republic. There he works to provide care for those less fortunate.
Page Created: January 02, 2018 Last Updated: September 17, 2019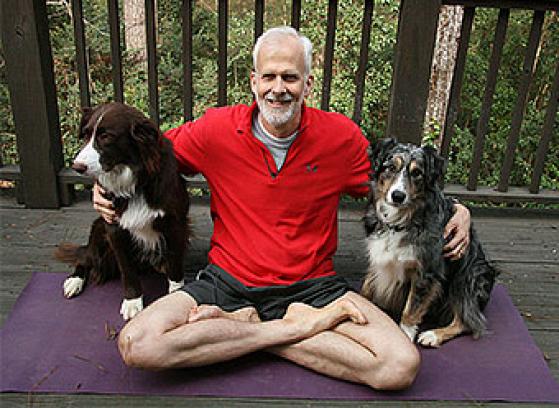 James E.
Georgia
To me as a cyclist and runner, that outcome makes possible an event free life with respect to my mitral valve. "
Read Story
Publications
Robin Varghese, MD, Shinobu Itagaki, MD, Anelechi C. Anyanwu, MD, Paula Trigo, MD, Gregory Fischer, MD and David H. Adams, MD

Federico Milla, MD, Javier G. Castillo, MD, Robin Varghese, MD, Joanna Chikwe, MD, Anelechi C. Anyanwu, MD, and David H. Adams, MD
All Publications