Reference Center Referrals
We are pleased to review all requests for referrals.
Please send us a referral letter, including the patient demographics and insurance information. Include a list of medications and a copy of the Cath or ECHO videos on CD.
If you are unsure if a patient is a suitable candidate for mitral valve repair, send us their ECHO and we will let you know the probability of repair.
Please send all information to:
Dr. David Adams
The Mount Sinai Hospital
1190 Fifth Ave., Box 1028
New York, NY  10029
Tel:  212-659-6820
Fax:  212-659-6818
The American College of Cardiology-American Heart Association Guidelines for Management of Patients with Valvular Heart Disease have introduced the concept of "reference center" referral to ensure patients who have complex degenerative valve disease requiring surgery have the best possible chance of avoiding a valve replacement, particularly in the asymptomatic setting. Criteria to define a reference center for mitral valve repair were not given, but phrases such as high likelihood of repair depends on the skill and experience of the surgeon are inferential to reference centers. The United Kingdom is also starting to explore the concept of best-practice standards for patients with degenerative mitral valve disease, suggesting a surgeon undertaking such procedures should perform a minimum of 25 mitral valve repairs a year, and a center 50 repairs a year, to be part of a network of mitral valve repair centers.
Perhaps of more significance, it was explicitly recognized that patients with Barlow's disease should ideally be referred to "super-specialists" to increase the likelihood of valve repair. Although healthcare purchasers have not yet become involved, it is significant that Dr Bernadine Healy, former head of the National Institutes of Health and the American Red Cross, wrote a recent article in a major US News Magazine® entitled "The Mitral Valve Question", which highlighted in clear layman's terms that too many patients undergo inappropriate mitral valve replacement. The relevance of reference center referral is summarized in the advice she gave to a patient with mitral regurgitation a decade earlier -- someday he would likely need an operation, and wherever he was, whoever his doctor was, he must go to a place skilled at repair. Such counseling should also apply today to most of our patients requiring elective surgery for mitral regurgitation.
With the new attention being brought to bear from various directions, it is not surprising not to see the field of mitral valve repair evolve toward a reference center model, already commonplace in subspecialties like heart transplantation and congenital heart surgery. Healthcare purchasers and health authorities may also mandate certain requirements for hospitals and surgeons to be credentialed in mitral valve repair. In the meantime, practicing cardiologists and internists should carefully counsel patients regarding the issue of outside reference referral, particularly in younger patients where an unnecessary mechanical valve replacement could result in substantial reduction in overall life expectancy and event-free survival.
Page Created: December 21, 2017 Last Updated: July 26, 2023
Coordinate Care with our Mitral Surgical Team
Dr. Adams and his team perform over 450 mitral valve repair procedures annually. Our recent paper in the Journal of the American College of Cardiology shows doctors with more experience provide patients better outcomes.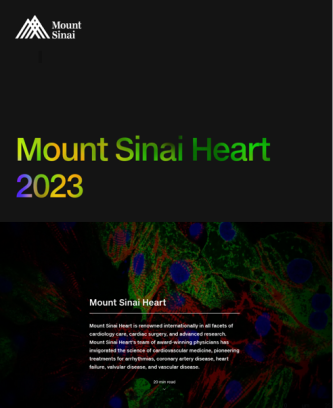 2023 Mount Sinai Heart Specialty Report
Read Story