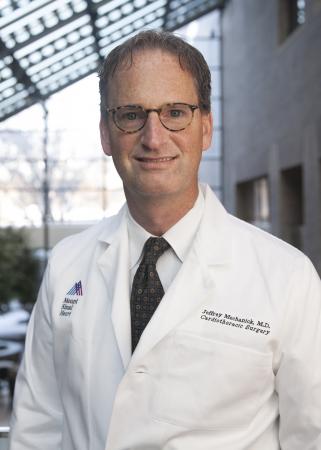 Jeffrey I. Mechanick, MD - Endocrinology, Nutrition, and Metabolic Support
Professor
Department of Medicine
Icahn School of Medicine at Mount Sinai
Download Curriculum Vitae [PDF]
Jeffrey Mechanick, MD, is Professor of Medicine and Medical Director of the Marie-Josée and Henry R. Kravis Center for Cardiovascular Health at Mount Sinai Heart in the Zena and Michael A Wiener Cardiovascular Institute and Division of Cardiology. He also serves as Director of Metabolic Support in the Division of Endocrinology, Diabetes and Bone Disease at the Icahn School of Medicine at Mount Sinai.
Dr. Mechanick is frequently consulted by the cardiac surgeons and intensivists of the Mitral Valve Repair Reference Center at The Mount Sinai Hospital to optimize control of blood sugar. Scientific studies have demonstrated that in patients with or without diabetes, optimal control of blood sugar, especially after heart surgery in the intensive care unit, is associated with better wound healing and improved outcomes. At Mount Sinai, cardiovascular surgery patients are routinely managed with a safe, state-of-the-art intravenous insulin protocol to optimally control blood sugar and nutritional status. Dr. Mechanick manages this protocol as well as the transition to subcutaneous insulin, oral blood sugar medications, discontinuation of insulin, and nutritional therapies. In addition, Dr. Mechanick may be consulted when there are specific endocrine (hormonal), metabolic, or nutritional problems with heart surgery patients. Nutritional support is a very important component of the routine postoperative care of heart surgery patients at Mount Sinai.
Dr. Mechanick has authored over 300 publications in Endocrinology, Metabolism, and Nutrition Support. He is the 2016-2017 President of the American College of Endocrinology, 2013-2014 Past President of the American Association of Clinical Endocrinologists, and 2005-2006 Past President of the American Board of Physician Nutrition Specialists. Dr. Mechanick has co-edited several nutritional guides and books including: Nutritional Strategies for the Diabetic and Prediabetic Patient, Power of Prevention: The Complete Guide to Lifelong Nutrition, Thyroid Cancer: From Emergent Biotechnology to Clinical Practice Guidelines, and Molecular Nutrition: The Practical Guide, and Lifestyle Medicine: A Manual for Clinical Practice. He also co-authored two pocket guides used by physicians to manage diabetes and offer nutritional guidance: Diabetes Mellitus Pocket, and Nutritional Medicine Pocket.
Dr. Mechanick was appointed as a member of the President's Council on Fitness, Sports and Nutrition (PCFSN) Science Board for 2010-2013 and was the 2013-2015 Editor-in-Chief and currently Editor-in-Chief Emeritus of the PCFSN quarterly publication Elevate Health. He also chairs the International Transcultural Diabetes Nutrition Algorithm Working Group. Dr. Mechanick currently serves as Chair of the Board of Visitors for the College of Computer, Mathematics, and Natural Sciences at the University of Maryland at College Park and was also the 2011 recipient of the University of Maryland Industry Impact Award and the Biology Alumnus Award.
Dr. Mechanick's research interests are in the fields of nutrition and metabolic support, obesity and lifestyle medicine, and network analysis of complex systems. He is responsible for training cardiology and endocrine fellows at the Icahn School of Medicine at Mount Sinai in lifestyle medicine, nutrition, and metabolic support. He received his M.D. degree from the Icahn School of Medicine at Mount Sinai, completed Internal Medicine residency at Baylor College of Medicine, and completed Endocrine Fellowship at The Mount Sinai Hospital.
Page Created: January 22, 2018 Last Updated: April 05, 2022