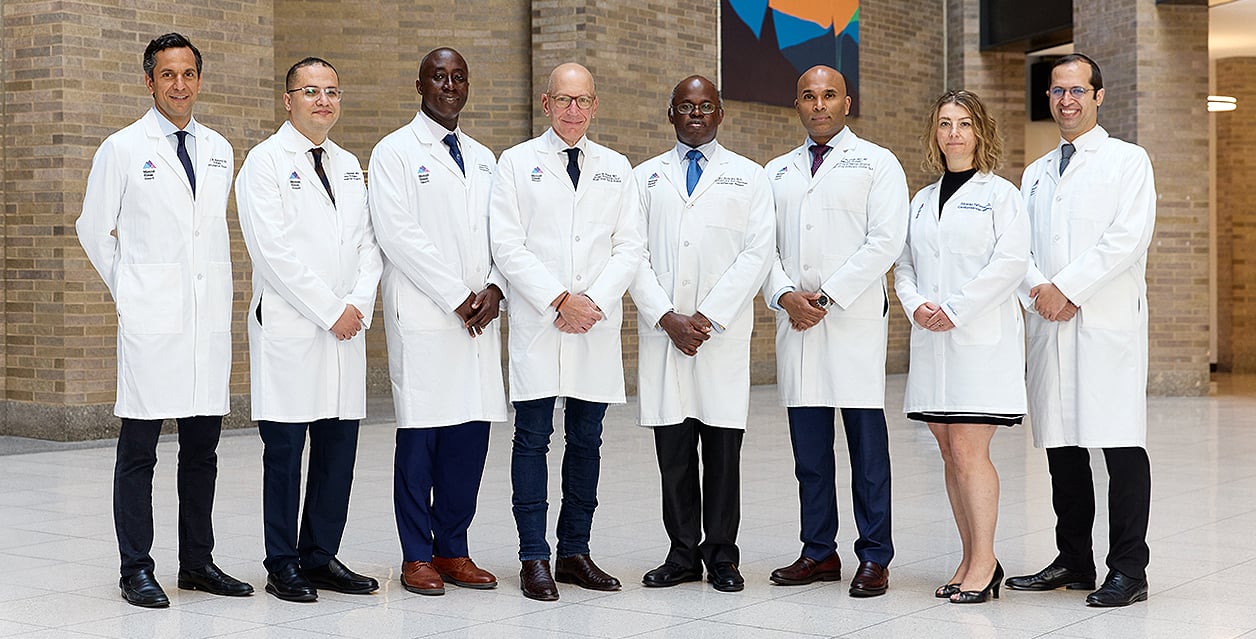 The Mount Sinai Hospital Receives Highest Honors for Cardiac Surgery
The Mount Sinai Hospital is world renowned for its expertise in cardiac valve surgery. That legacy continues as it received recent top ratings for patient safety and superior outcomes from the New York State Department of Health and the Society of Thoracic Surgeons, in addition to the 2022 Mitral Valve Repair Reference Center Award from the American Heart Association and the Mitral Foundation.
New York State Department of Health Public Reporting
In one of the significant outcomes reports, Adult Cardiac Surgery 2016-2018, the New York State Department of Health found that The Mount Sinai Hospital performed better than the state safety average for isolated valve surgeries and combined valve and CABG procedures, while performing more of these procedures—3,108—than any other hospital in the state.
The report also awarded its highest quality rating for cardiac valve surgery to David H. Adams, MD, Cardiac Surgeon-in-Chief, Mount Sinai Health System, and the Marie-Josée and Henry R. Kravis Professor and Chair of Cardiovascular Surgery at the Icahn School of Medicine at Mount Sinai.
During the study period, Dr. Adams's safety results were significantly better than the state average for isolated valve surgery and combined valve and coronary artery bypass graft (a risk adjusted mortality rate of 0.18 compared to the State average of 2.10), while performing 1,001 of the procedures—more than any other surgeon in New York State.
"It is a real honor to be recognized by the state for our commitment to quality at Mount Sinai," Dr. Adams said. "Our ability to achieve positive outcomes for our patients and maintain a high degree of safety with such a high volume of cases exemplifies the considerable skills, discipline, and dedication of our entire multidisciplinary team, including our anesthesiologists, intensivists, residents, nursing and perfusion staff, clinical coordinators, and the incredible group of cardiologists and sub-specialists that help take care of our patients. I am proud of all of them and of the exacting standards we have set for the care of our patients at Mount Sinai."
Society of Thoracic Surgeons (STS) Ratings
Those standards have also earned honors from the Society of Thoracic Surgeons (STS), which recognized The Mount Sinai Hospital with its distinguished three-star rating based on Mount Sinai's commitment to patient care and the outcomes it achieved in three categories: mitral valve repair and replacement (MVRR), coronary bypass surgery (CABG), and aortic valve replacement and CABG (AVR-CABG).
The STS star rating system is one of the most sophisticated and highly regarded overall measures of quality in health care, and Mount Sinai's performance places it among the elite in all three categories in the United States and Canada. Historically, 20 percent of participating centers have received the three-star rating for CABG, and 4 to 7 percent have received it for AVR and CABG.
"This star rating system is the premier clinical way of rating hospitals based on their performance and it is exciting that STS has named Mount Sinai the best of the best in three categories," said Julie Swain, MD, Vice Chair and Professor of Cardiovascular Surgery at Icahn Mount Sinai. "There are very few centers that achieve a three-star rating in multiple specialties, which reinforces the fact that we are among the top hospitals in the world when it comes to performing safe, successful mitral valve, coronary bypass, and other cardiac operations."
American Heart Association/Mitral Foundation - Mitral Valve Repair Reference Center Award
The program was also honored to receive the American Heart Association - Mitral Valve Repair Reference Center Award, which recognizes medical centers that have a demonstrated record of superior clinical outcomes and a commitment to reporting and measuring mitral valve repair-related metrics. It also promotes the centers that have received this award to improve access to quality care among patients nationwide.
"This prestigious award is a testament not just to the excellence of our surgeons but also to our comprehensive team approach to all aspects of patient care from first consultation to post-operative follow-ups," Dr. Swain said. "We have been refining that approach, and the system that supports it, for years through ongoing quality assessments and we are seeing the results of that effort in the honors we receive and, more important, the results we achieve for our patients."
"The health and safety of our patients is our priority, now and always," said Valentin Fuster, MD, PhD, Director of Mount Sinai Heart and Physician-in-Chief of The Mount Sinai Hospital. "All of us at Mount Sinai are very proud to be recognized for our commitment to quality care and our outcomes in cardiac surgery, and we continue to draw inspiration from that to do even better."
Page Created: November 27, 2017 Last Updated: July 26, 2023

Mitral Valve Surgery Volume Matters - Study supports having centers of excellence in mitral valve repair
Mitral valve prolapse is more likely to be repaired successfully if operators perform the procedure at least 25 times a year, researchers found. "
Read Story