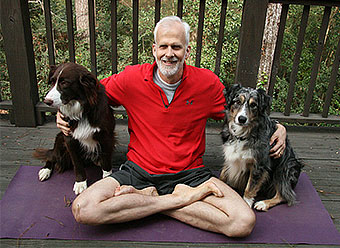 Dear Dr. Adams,
I want to say how much I appreciate and stand in awe of the virtuoso mitral valve and tricuspid valve surgery you, Dr. Tang and Dr. Varghese performed on me last Monday. Although I was "not there" for the event, I understand that the mitral valve presented complex issues and required a great deal of skill, knowledge, experience and artistry; I am certain that, as I heard, yours is the only surgical team in NYC who could have repaired that valve instead of replacing it. To me as a cyclist and runner, that outcome makes possible an event free life with respect to my mitral valve. The incision on my chest is so straight and deftly done that I was joking with the medical staff on 7W that I wished you had autographed it. The fact that no transfusion was required speaks volumes about what meticulous attention you and your team pay to every aspect of the surgery.
Once I regained consciousness, I could witness the professionalism of your team in action in the ICU and Cardiac Step Down unit. Despite the fact I am no doctor, it was clear I was in the presence of some worldclass talent. In particular, Dr. Tang was with me for multiple days, including this last weekend, tracking my recovery carefully and thoroughly. Drs. Chan and Weiss were also contributors to make sure things went smoothly along the way.
In every way I could see, your PA Joel Estabillo was excellent. Beyond the talent he displayed in pulling my chest tubes, he was always full of energy, had a smile on his face and listened well. He did wonders for me as a patient, discussing my case in terms I could understand and otherwise building my confidence and sense of well-being.
Finally, I want to say that before I came up to NYC for this event, working with Terese King in your office was a joy. She was totally responsive - returned calls and answered emails in real time, to make sure that we provided "the test results and materials you needed, kept straight on dates, and answered my questions.
There are others on your team who treated me and whose names I am not recalling at this moment, and there are likely other contributors behind the scenes; I apologize for omitting their names here but am grateful to them as well.
In sum, I feel so very fortunate to have connected with you and your team. What you have done literally makes all the difference in the world ror me, every day I go forward in life.
Sincerely,
James E.
---
From: James E.
Sent: December 19, 2011
To: Kearns, Teresa
Dear Teresa,
Holiday greetings from Palo Alto, and please give my greetings to Dr. Adams, Dr. Varghese, Dr. Tang and the entire team who did a perfect job repairing my mitral and tricuspid valves. I continue to appreciate that you all were able to repair the valve (instead of having to replace it) despite the complex and serious issues it presented, and I am so thankful that I travelled to Mt. Sinai to have you and your team do the surgery. It's been 4 months since surgery and I am back full tilt running, cycling and doing my Ashtanga yoga - literally, good to go. When I am out in the morning running around the Stanford campus, or biking to work or up in the Santa Cruz hills, I often recall that I have you all to thank for the freedom and the joy. You are the absolute best.
Via the attached photo, my Australian Shepards, Chip (the blue one) and Bro (red), also wish you Happy Holidays.
James E.
Page Created: December 11, 2017 Last Updated: December 18, 2017