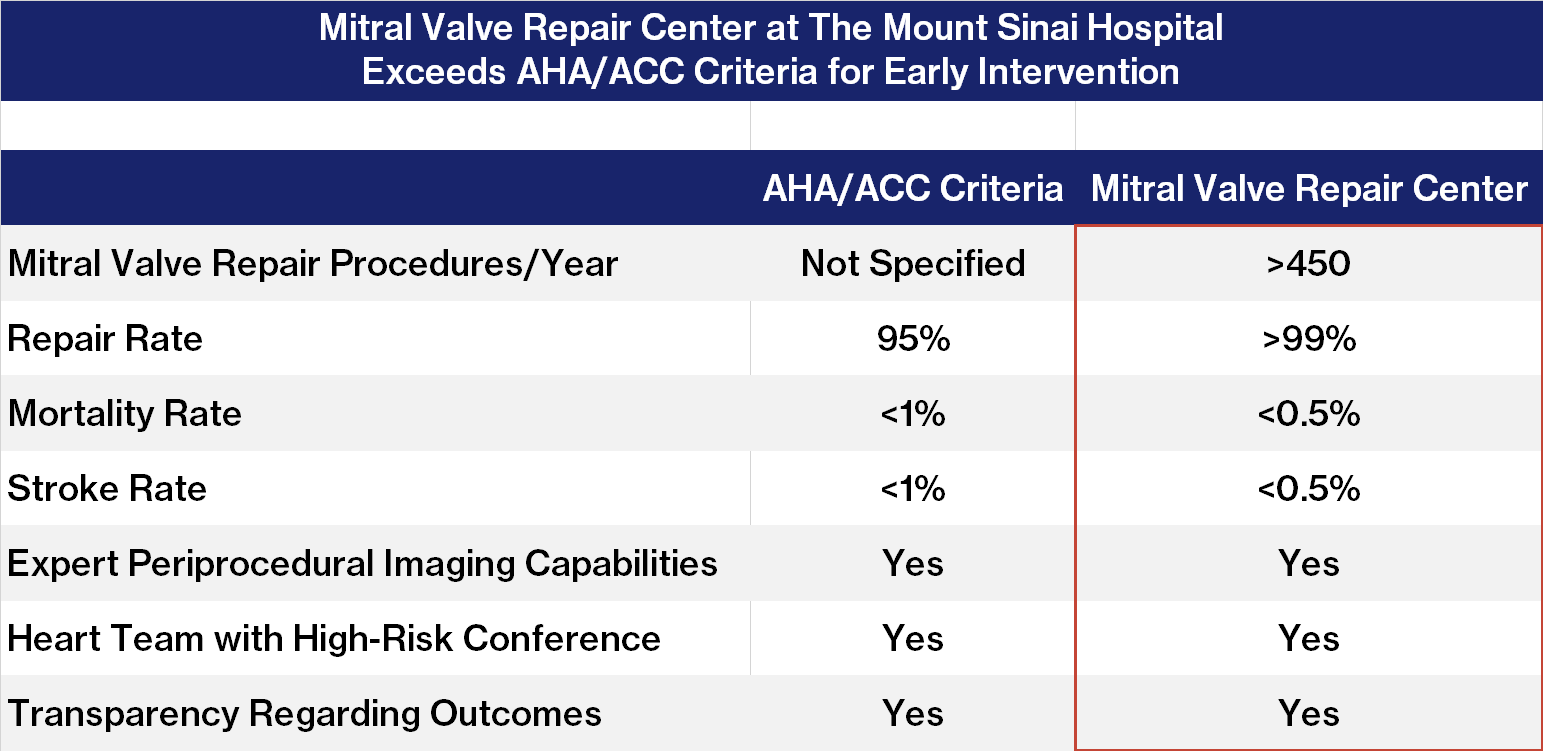 The American Heart Association and  American College of Cardiology Guideline for the Management of Patients With Valvular Heart Disease1 recommend early mitral valve repair only if the procedure is performed in a mitral valve reference center. The Mitral Valve Repair Center at The Mount Sinai Hospital is among the world's best.
The overt operative and short-term clinical superiority of mitral valve repair over replacement with a prosthetic valve is well established and accepted by most cardiac specialists. Therefore, during the last decade, research and outcome analyses have focused on the long-term durability of mitral valve repair, particularly important in younger patients with degenerative mitral valve disease. In this context, the management of mitral valve regurgitation has changed drastically, and there has been a shift toward a more aggressive approach in terms of surgical timing and interpretation of the natural history of the disease. The latest literature has demonstrated the positive impact (bett­er postoperative long-term survival) of early mitral valve repair, rather than waiting for symptoms such as ventricular dysfunction or dilatation, pulmonary hypertension, or atrial fibrillation—the standard guideline triggers for surgery in previous eras. 
1Nishimura RA et al. 2017 AHA/ACC Focused Update of the 2014 AHA/ACC Guideline for the Management of Patients With Valvular Heart Disease: A Report of the American College of Cardiology/American Heart Association Task Force on Clinical Practice Guidelines. Circulation. 2017 Jun 20;135(25):e1159-e1195.
Page Created: December 22, 2017 Last Updated: March 15, 2018