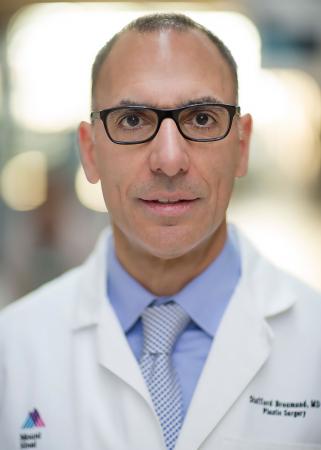 Stafford Broumand, MD - Plastic Surgeon
Assistant Professor
Department of Surgery
Icahn School of Medicine at Mount Sinai
Stafford R. Broumand, MD, is on the voluntary attending surgical staff of The Mount Sinai Health System. He is an assistant clinical professor of surgery in the Division of Plastic Surgery. Dr. Broumand received his medical degree from Yale University School of Medicine and went on to complete an internship and residency in Surgery at the Icahn School of Medicine at Mount Sinai. He completed his chief residency in General Surgery at The Mount Sinai Medical Center. Dr. Broumand then took a fellowship in reconstructive surgery at the Massachusetts General Hospital/Harvard Medical School. Upon completion of this plastic surgery fellowship, he took a fellowship in Burn Reconstructive surgery at the Shriners Burn Institute at the Massachusetts General Hospital. Following this, he took a fellowship in craniofacial surgery and cosmetic surgery with Dr. Daniel Marchac at the Hopital Necker in Paris France. 
In 1993, he started at The Mount Sinai Health System as a voluntary surgical attending with expertise in craniofacial surgery. Since his return to Mount Sinai he has opened a practice of plastic surgery as a solo practitioner. Dr. Broumand takes an active role in the clinical practice of plastic surgery and teaching at The Mount Sinai Health System. He has published papers in plastic surgery and craniofacial surgery and is an instructor in plastic surgery, general surgery and medical school students in the field of plastic and reconstructive surgery. Dr. Broumand is board certified in plastic surgery and the surgery specialty.
Dr. Broumand hold memberships in national and regional societies affiliated with plastic surgery. He is an active member of the American Society of Plastic Surgery.
Page Created: January 02, 2018 Last Updated: September 17, 2019