COVID-19 Update
The COVID-19 pandemic has presented the medical community with a unique set of challenges. In addition to in-person consults, we are now using the latest telehealth technology to meet with current and prospective patients via video visits, whenever possible.
Additional precautions have been added to ensure we maintain our stellar safety record and continue delivering superior patient outcomes. With these goals in mind, every surgical patient will be tested for COVID-19 prior to admission to The Mount Sinai Hospital, this is a Mount Sinai Health System-wide policy to ensure the safety of all patients and staff. The hospital has also implemented social distancing rules, a modified visitor policy, universal masking, and mandatory hand hygiene for visitors.
To schedule an appointment with our team, please call 866-MITRAL5 (866-648-7255).
To view the current Visitor Policy for The Mount Sinai Hospital, visit: https://www.mountsinai.org/about/covid19/policies
Learn more about our overall precautions to keep you safe, visit: https://www.mountsinai.org/about/safety-hub/patients
Please Note: Masks are still required in health care facilities according to the CDC (Centers for Disease Control) and NYS DOH (New York State Department of Health.)
---
Before You Arrive:
Phone Screening: We will call you prior to your visit to ask if you have (or have had) any COVID-19 symptoms, such as:
Fever

Cough

Shortness of breath or difficulty breathing

Chills, or shaking with chills

Loss of taste or smell

Muscle pain

Headache

Sore throat
Online Check-In: To reduce your wait time and contact with others, as much of your check-in as possible will be handled remotely, before you even come to the hospital.
When You Arrive:
Symptom Screening: Please check in at the security desk where they will take your temperature, and screen you for COVID-19 symptoms. Patients showing symptoms will be referred to a telemedicine visit.
Mandatory Masking: All patients and staff are required to wear a mask or face covering. We will provide you with a mask, if needed.
---
Visitor Policy:
The visitor policy for the Mount Sinai Health System is subject to change. While at The Mount Sinai Hospital, patients and visitors should defer to the hospital policies below.
The latest Mount Sinai Hospital policy can be viewed here: Current Mount Sinai Hospital Visitor Policy – please note, the policy below is subject to change and you should defer to the Mount Sinai Hospital Visitor Policy before you arrive at the hospital
Click here for the latest Covid-19 information from the Mount Sinai Health System, including the latest visitor policy and other important updates for our patients.
---
Additional Resources:
Florida Department of Health Telehealth Website
Page Created: March 18, 2020 Last Updated: June 08, 2022
Schedule a Video Visit or Ask a Question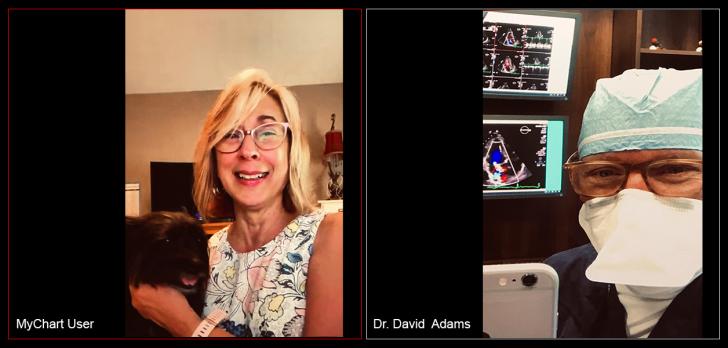 Jan B.
New York
I would have liked to have met Dr. Adams in person first, but I loved him through telehealth. "
Read Story