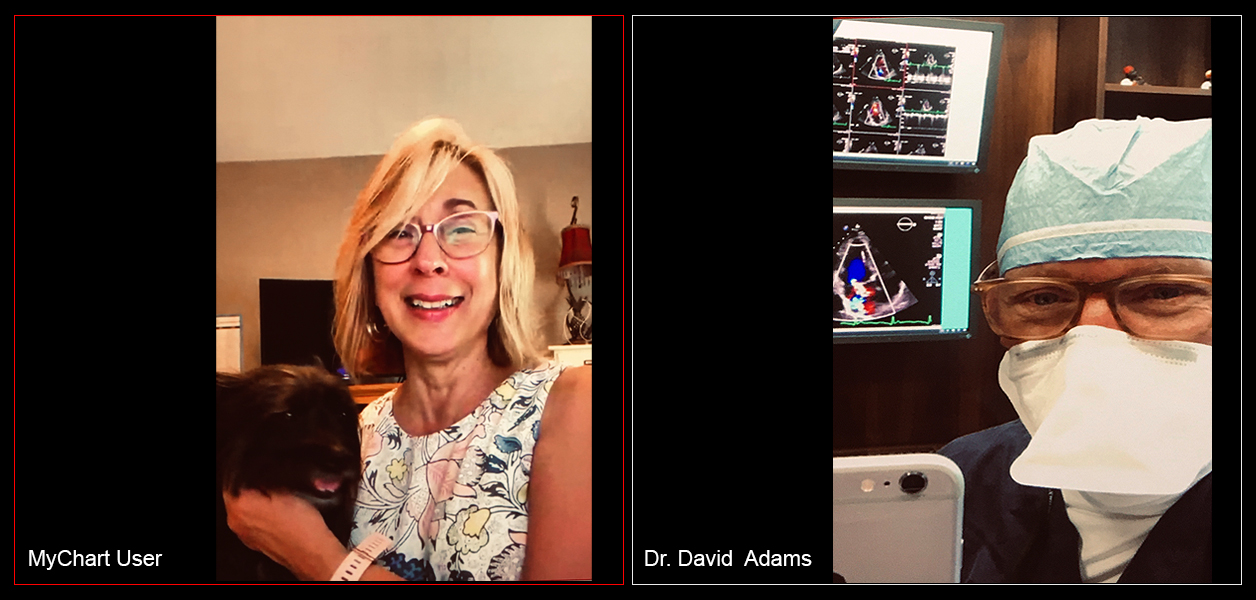 Jan B. was at the gym, powering through her normal workout of 150-pound deadlifts, when her cell phone rang. It was her cardiologist, calling with bad news: test results had revealed that she had a faulty mitral valve, and would need open heart surgery. While she had recently been feeling short of breath while ballroom dancing and had occasional heart palpitations at night, she had attributed those symptoms to asthma or – having recently turned 65 – to her age. Given her high level of fitness, heart surgery was the last thing she had ever anticipated.
For Jan and her family, heart problems were especially fraught. Her first husband died of a massive heart attack at 46, and because of this, she knew their son Paul, would be deeply concerned about her condition. Her current husband, a widower himself, also knew the pain of loss. As a therapist, though, Jan was emotionally resilient and quickly pivoted from shock to next steps.
After additional tests in her local hospital in Glens Falls, New York, and with a referral from her cardiologist at Adirondack Cardiology, she contacted one of the world's top mitral valve surgeons, David H. Adams, MD, Director of the Mitral Valve Repair Reference Center at Mount Sinai in New York City, and the Marie-Josée and Henry R. Kravis Professor and System Chairman of the Department of Cardiovascular Surgery at the Icahn School of Medicine at Mount Sinai and the Cardiac Surgeon-in-Chief of the Mount Sinai Health System.
Unfortunately, with COVID-19 beginning to overwhelm hospitals there, an in-person evaluation – normally just a three-hour drive away – was not possible. But thanks to pandemic-related changes to telehealth regulations, she was able to arrange a video consultation with Dr. Adams.
This virtual appointment proved to be a very positive experience. "I liked being in my own space," said Jan, who spoke with Dr. Adams from the comfort of her living room. "I had my dog Cooper on my lap. My husband Mike was there. And because the appointment was over video, I didn't have to wear a mask. I would have liked to have met Dr. Adams in person first, but I loved him through telehealth," she said.
Dr. Adams, a leader in marshaling national support for expanding the use of telemedicine in cardiac care, believes that it will help physicians and other healthcare providers deliver better care to many more patients at a significantly lower cost. "People like Jan should be able to access the medical expertise they need, no matter where they live. Telemedicine enables us to deliver that quality care safely and effectively," he said.
While acknowledging that telemedicine will never replace the need for hands-on testing and surgery, Dr. Adams notes that it does have the potential to dramatically strengthen diagnostic, preventive and follow-up care – enhancing health outcomes and lowering long-term costs for all stakeholders. "Quality telemedicine has the potential to help millions of Americans live longer, healthier lives," he said.
Although the pandemic delayed Jan's surgery for a month, she was able to schedule it at The Mount Sinai Hospital when surgical services resumed. In the interim, she worked to strengthen key muscles that would help accelerate her recovery after surgery. And when it came time to head into the hospital, she was accompanied by her husband and son, who alternated at her bedside.
The surgery went well, as Dr. Adams and his team were able to repair her mitral valve completely, correcting the severe regurgitation that had been causing her symptoms and degrading her heart's ability to pump. Two months after surgery, Jan was already walking four miles per day, had completed her cardiac therapy, and had resumed light workouts. "They did a fantastic job," she said, praising the entire surgical team. "It was minimally invasive, and my friends all call my scar 'cute' because it's so small."
As of October 2020, the pandemic continued to keep Jan relatively isolated, she remains optimistic about her continued recovery, and has expanded her own counseling practice through telemedicine. "In this day and age, do you really want to fight traffic and sit in a waiting room if you don't have to? It's so much more efficient to use telemedicine."
Even so, Jan concedes that some interactions, are best accomplished in person. "I absolutely love Dr. Adams," she said. "Maybe after all this lifts, I'll drive down and give him a hug."
Page Created: September 24, 2020 Last Updated: June 08, 2022