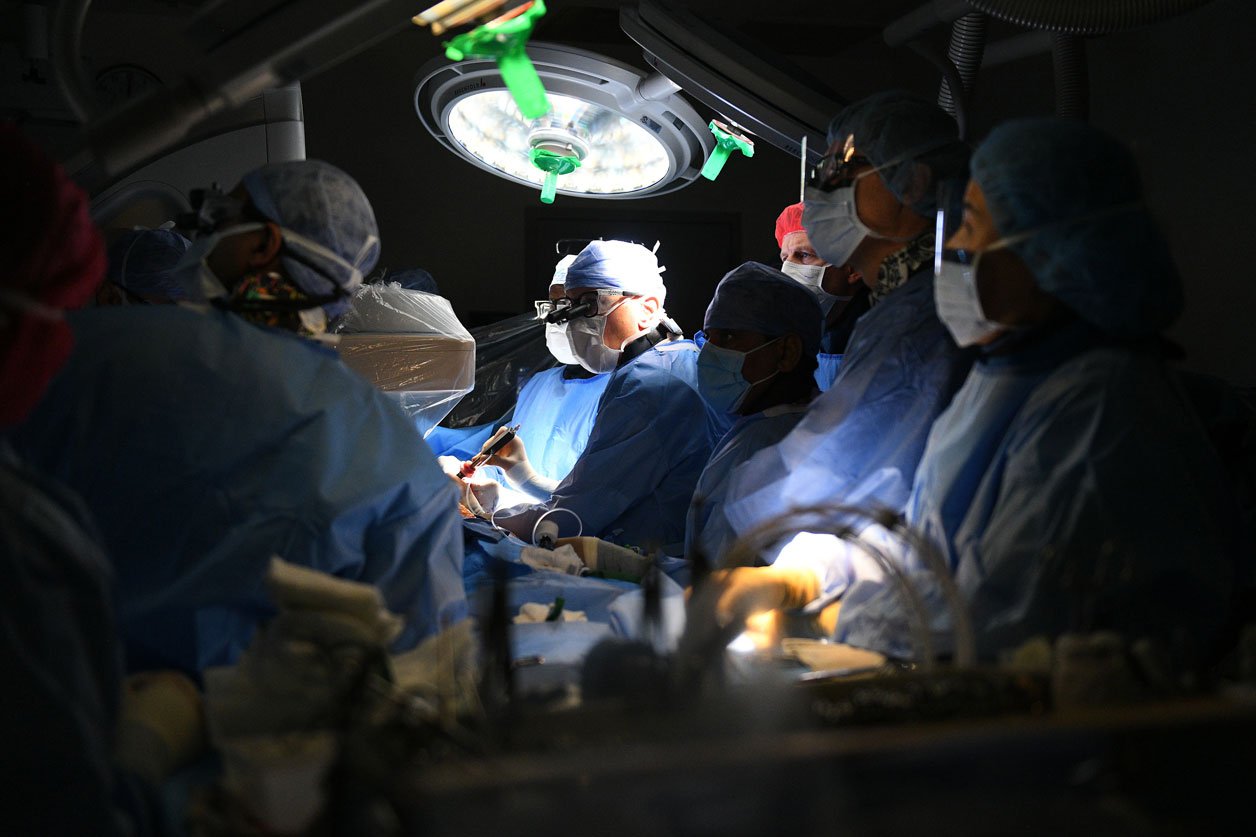 A clinical study is ongoing within the United States to evaluate the use of the Medtronic Intrepid™ Transcatheter Mitral Valve Replacement System (TMVR).
Multicenter APOLLO Trial Evaluates Options for Patients With Severe Mitral Regurgitation
Participation in a new U.S. Food and Drug Administration pivotal clinical trial is underway at The Mount Sinai Hospital, which could result in an alternative to open-heart mitral valve replacement surgery. The APOLLO trial, which began in October 2017, is a multicenter, global, prospective, randomized trial that is evaluating the safety and efficacy of the Medtronic Intrepid™ Transcatheter Mitral Valve Replacement (TMVR) system in patients with severe mitral regurgitation who are candidates for conventional mitral valve replacement surgery. David H. Adams, MD, the Marie-Josée and Henry R. Kravis Professor and Chair of Cardiovascular Surgery at the Icahn School of Medicine at Mount Sinai, and the Cardiac Surgeon-in-Chief of the Mount Sinai Health System, is the national co-investigator for the study, along with Martin Leon, MD, of NewYork-Presbyterian/Columbia University Irving Medical Center.
"This system is unique in that it is a self-expanding stent technology that requires no sutures, tethers, or anchors to attach and conform to a patient's native mitral annulus," Dr. Adams says. "It enables a rapid catheterbased deployment of the prosthesis through a cardiac puncture, which we believe will benefit patients because it eliminates the invasiveness of a sternotomy or the use of a heart-lung machine."
Up to 1,380 participants will be enrolled in the APOLLO study, with patients randomized on a 1:1 basis to undergo TMVR implantation or standard-of-care mitral valve surgery. Patients are eligible if they are 18 years old or older and have moderate to severe symptomatic regurgitation, and a CT scan confirms they are suitable candidates for bioprosthetic mitral valve replacement. Exclusion factors include predicted risk of mortality due to comorbidities, previous mitral valve surgery, and a mitral anatomy that precludes management of the subvalvular apparatus or full chordal sparing. There will also be a single-arm cohort for patients who are ineligible for conventional mitral valve surgery.
"TMVR is a rapidly growing field with a range of emerging devices and approaches," says Ahmed El-Eshmawi, MD, Assistant Professor of Cardiovascular Surgery at the Icahn School of Medicine. "This trial will enable us to compare TMVR versus standard surgery. It also enables us to study the high-risk patient population in the single arm, and we expect it will result in invaluable information regarding the periprocedural risks and clinical outcomes of TMVR, which hopefully will one day mirror the outstanding results now achieved with transcatheter aortic valve replacement."
Dr. El-Eshmawi says the primary endpoint for the APOLLO study is the composite of all-cause mortality, stroke, reoperation, and cardiovascular hospitalization at one year. Patients will be monitored after the procedure, starting with a CT scan after 30 days to ensure the valve is well-seated on the annulus. "Because TMVR is truly minimally invasive, we expect there should be a more rapid recovery, with decreased morbidity for patients who receive it," he says. "It may also facilitate valve treatment in high-risk patients in the future."
The trial is continuing to enroll patients and has a completion date of 2021, and Dr. El-Eshmawi is optimistic about the potential of TMVR: "Being a leading Mitral Valve Repair Reference Center, Mount Sinai will continue to pursue therapeutic advances that offer our patients the safest and most effective options for treatment."
CAUTION: The Medtronic Intrepid Transcatheter Mitral Valve Replacement System  is an investigational device limited by federal (United States) law to investigational use.
Page Created: May 28, 2019 Last Updated: July 19, 2019
For more information on enrollment, call: 212-659-6820