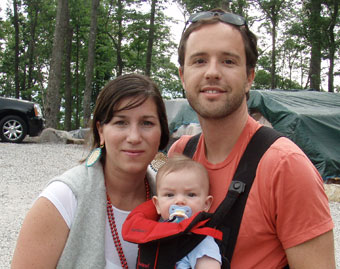 Sent: Tue, Sep 02, 2008
To: Adams, David
Subject: Thank You
Dear Dr. Adams and Team:
It has been about 3 weeks since my open heart surgery in NYC and every day I feel better.
As a 34 year old male, who had been at the "top of his game" when I found out about needing mitral valve repair, there is much I can say about the experience. Personally, I have gone through several lessons, revelations, challenges and strides, but the most important lesson I can pass on to other young heart patients who need a valve operation, is to pick you and your excellent team. Thank you for giving me a perfect heart again and thus a longer life expectancy. In addition, your team's guidance pre- and post- surgery has been incredible.
Having worked and lived on every continent, traveling the world, meeting outstanding medical professionals, I can tell you I experienced your Department of Cardiothoracic Surgery at Mount Sinai, NYC to be the best reference center with the best care and professionalism. This is how medical "care" should be.
Every single person who "touched me" was informed, caring, knowledgeable and pleasant. Dr. Chikwe is incredible and always available. Therese helped get the entire trip organized, making us comfortable with all items; she is wonderful. Edith continues to guide me through the recovery stages remotely. Dr. Fischer is also great. Every single person (I failed to mention them all) was smart, caring and professional - and informed about my case in advance.
This is what I learned about where/how to get your heart fixed. When you are young and in need of this type of surgery, you want to select the best surgeon at the best reference center. When you plan to live a long life after surgery (50+ years), you need to make sure it is fixed the best way, by someone who has the most experience and best knowledge. Only then will your procedure be a success . . . 50 years from now. So, forget about who you know or where you live, but do your research, find the 2 or 3 best, "interview" them and select who you get the most positive feeling from. This is how I picked you.
So, I am now completely focused to getting back to 100% and actually plan to get to at least 120%. (You did tell me my heart is better now than it ever was.) In 2009. I plan to run a marathon or do something seriously challenging. I hope to set an example for others that need to follow in my food steps. I plan to check in again and let you know about my progress along the way and hope that I can host you and/or Dr. Chikwe in Florida some day.
All the best,
Michel K.
From: Michel K.
Sent: Wednesday, November 12, 2008
To: Adams, David
Subject: Michel K is back!
Dear Dr. Adams, Dr. Chikwe and Team:
Today marks 3 months exactly since my heart operation. You had mentioned early on that 3 months would be a time look forward to. I felt like sharing my recovery update with you, so that you may share it with others who are in need of mitral valve surgery, but are worried what life might be like after. Well, I can tell you that I have been back at work for 6 weeks and traveled to NYC, Washington DC, Las Vegas and Atlanta. I play with my children like I used to; I even run 4 miles again, swim, lift weights, including push and pull ups. While I aim to set new physical goals for myself with this "new heart" of mine, I'm back! Your team has given me a new life expectancy and valuable experience. Thank you! Feel free to post this update to your website.
It was great to see you last week. Pls let me know when you might visit South Florida - we owe you a very nice dinner at the very least.
All the best,
Michel K.
Page Created: December 07, 2017 Last Updated: December 18, 2017