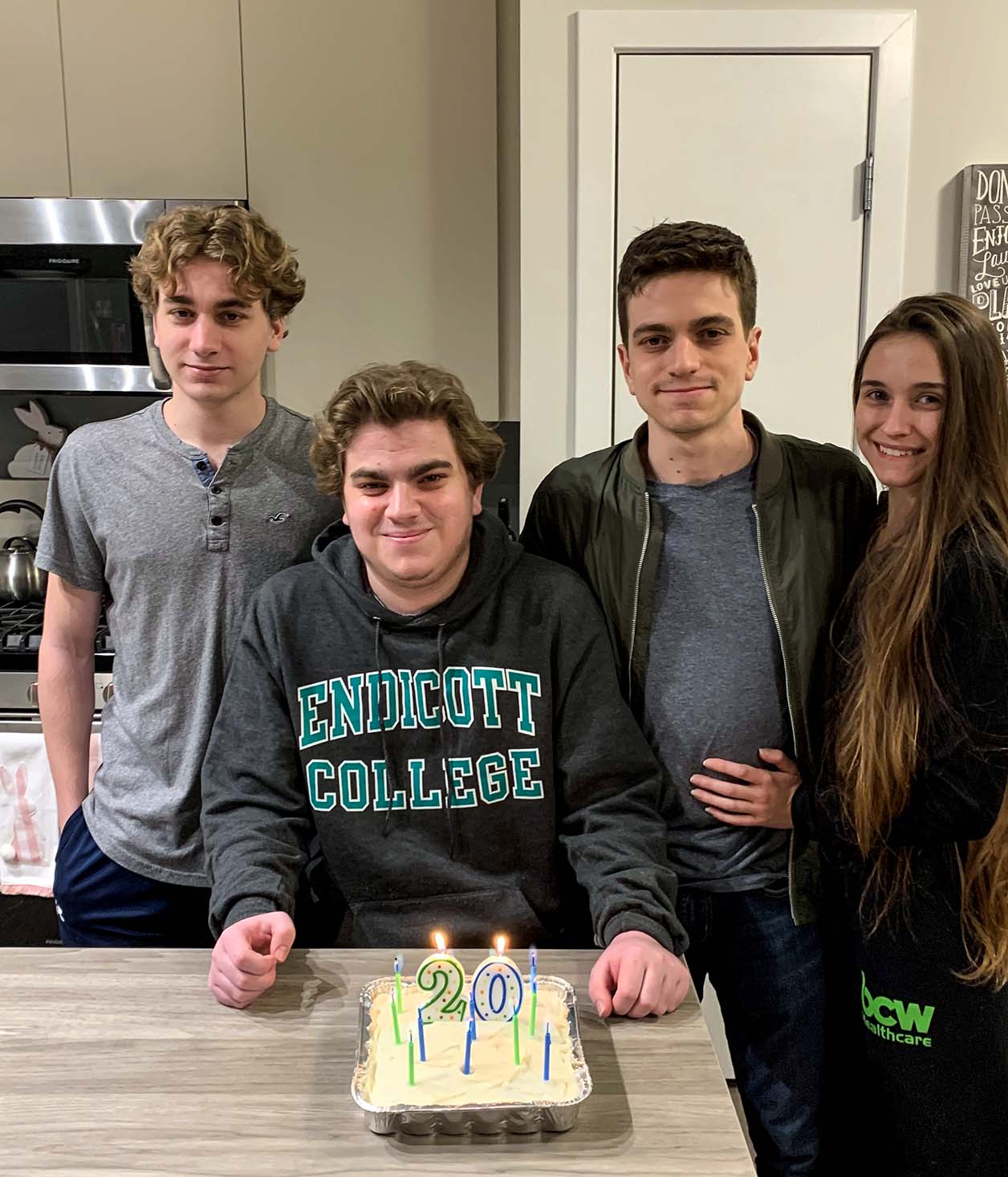 Surmounting the Dangers and Challenges of Re-Operations
By the age of 19, Matt C. had already undergone three heart surgeries. The first two operations, when he was just a newborn, addressed congenital aortic problems. The third, as a high school freshman, left his mitral valve in worse shape than it started.
"I never felt 100 percent," Matt said, even after a hard six-month convalescence. First, he quit the high school baseball team because running bases left him breathless. Next, riding his bike became difficult. And by the time he started college, growing fatigue, fluid in his lungs, and worsening asthma made it exhausting just to walk to class.
Anxious about more surgery and hesitant to return to the hospital that had performed his first unsuccessful mitral procedure, Matt and his parents – Barbara and Richard – turned to the Mount Sinai Valve Repair Center, where they met with Dr. David Adams, Mount Sinai's Cardiac Surgeon-in-Chief, and Dr. Percy Boateng, another top mitral repair surgeon at the hospital.
Known globally for its expertise in repairing and reconstructing valves, the team at Mount Sinai was candid with Matt and his family, explaining that re-operations are intrinsically harder and riskier. This is due to the build-up of scar tissue in the heart that can slow and complicate surgeons' access to the damaged valves.
In addition to heightened challenges of entering the heart cavity and separating the scarred tissue, surgeons attempting re-operations usually have less healthy tissue with which to attempt a repair. "When we seek to reshape a damaged mitral valve so that it opens and closes properly, too much scar tissue from past operations makes it harder to achieve a perfect fit," Dr. Boateng said.
In the most serious cases, which are only apparent after the chest cavity has been opened, surgeons have no option but to swap a diseased valve with a mechanical replacement. Unfortunately, such mechanical valves require the patient to take blood-thinning medications for the rest of their life and avoid any activity that might cause bleeding or bruising.
For Matt, a young man who loved sports, the prospect of such a constricted lifestyle was profoundly unsettling. His two alternatives were valve repair, if enough healthy tissue remained for surgeons to work with, or a replacement valve made of natural tissue – an option that would obviate the need for a lifetime of blood thinners but itself require replacement in another 8-10 years.
"They spent so much time with us, and outlined every option," said Matt's mother, Barbara. "It was such a complex case to begin with, but I trusted they would do everything they could to make Matt better."
The night before surgery, Dr. Boateng stopped by Matt's hospital bed to check on him. "He was really calm and reassuring," Matt said. "He treated me as if I were his own family. He told me there were no guarantees of fixing my valve, but that he and Dr. Adams would do their best."
When the surgeons opened Matt's chest, Dr. Adams and Dr. Boateng were relieved to discover that his chest cavity was not "hostile" – that is, scar tissue had not unduly fused the heart's components. Unfortunately, when they got an unobstructed look at the mitral valve, they determined that practically no blood was getting through. Stenosis – a form of heart disease that stiffens and narrows the valve opening – was severe.
Finding too little healthy tissue for a total repair, they determined they had no choice but to replace the damaged mitral valve. Fortunately, they were able to do so with a substitute made of natural tissue, avoiding the need for a lifetime of blood thinners. And while the natural-tissue valve itself will need replacement in about a decade, it will likely be done via minimally invasive catheter surgery. While the chest cavity was open, the team also repaired Matt's aortic tricuspid valve, to improve its function and his heart's overall performance.
"The surgery went very well," Dr. Boateng said. "Because we have very specific expertise, we were able to fix Matt's problems and offer him a much higher quality of life. Given that this was a re-operation, most other hospitals would not have been able to operate safely and would not have accepted the case."
To his own surprise, Matt was up and walking around his hospital room just a day after surgery. Weeks later, he was walking several miles per day and feeling better than he has in years – with no shortness of breath, no coughing, no asthma, and no sense that his future is anything but healthy.
"Given my medical history and everything I've been through, I really didn't expect this," Matt said. "Now I'm looking forward to a normal college life, meeting friends, working out, and excelling in class. I feel like a new person."
For Matt's parents, the relief is palpable. "They were the right team," said his dad, Richard. "It couldn't have worked out better."
Page Created: May 20, 2022 Last Updated: August 11, 2022