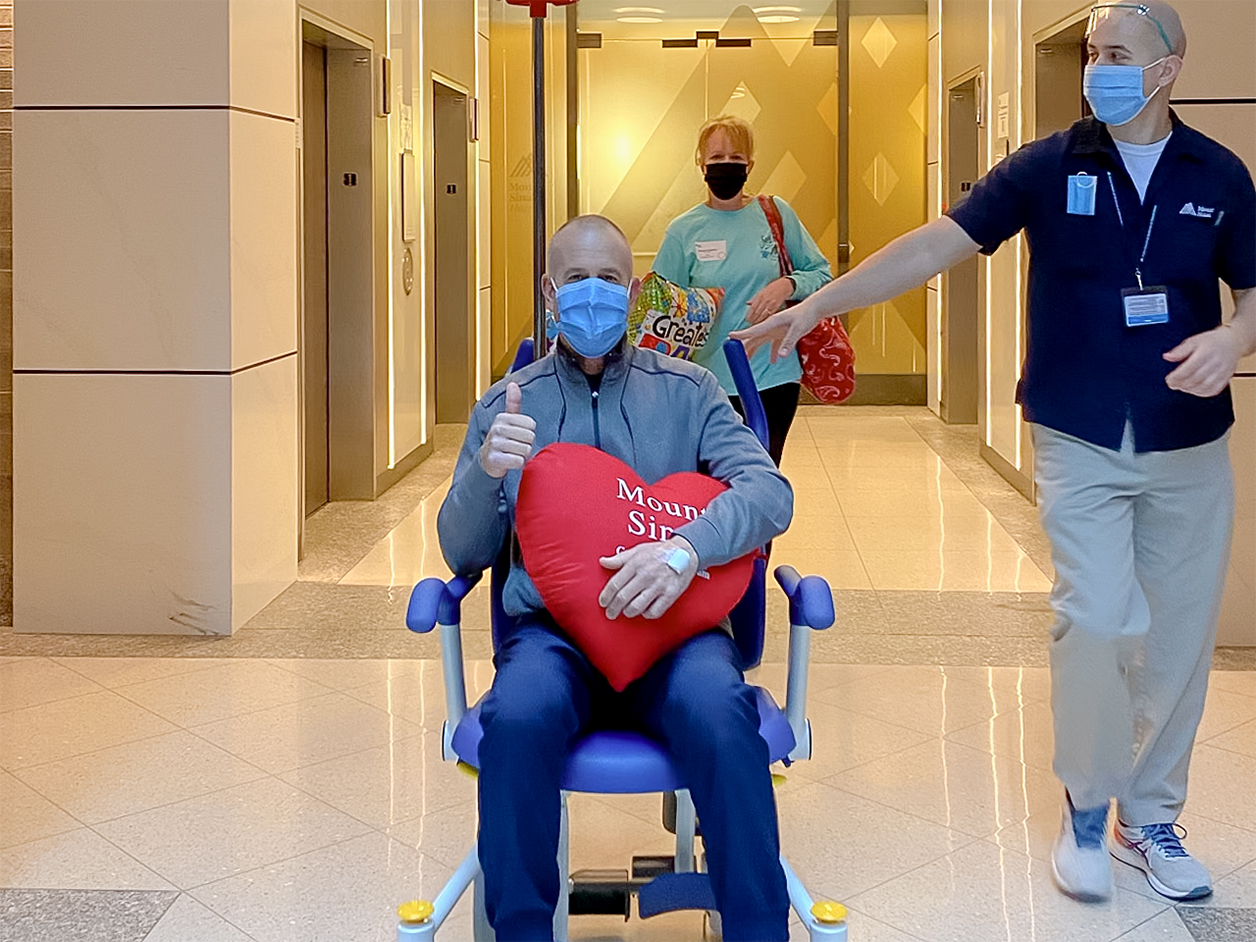 From: Jerry S.
Sent: April 4, 2022
To: Mitral Valve Repair Team
Subject: Mount Sinai Cardio Surgical Review
Dear Mount Sinai Mitral Valve Repair Team,
Let me preface my Mount Sinai Cardiothoracic surgical experience in one 3 letter simple word. Wow!!!
I tend to be a tad long in the tooth, but feel compelled to share my Mount Sinai "wow factor" encounter.
Below, is a chronology of my heart condition and the tremendous Mount Sinai repair/care that ensued.
In March of 2021 I went to my general practitioner for a yearly physical. He noticed a heart murmur and suggested that I have an echo test to help determine the cause of this issue. My stubborn, German personality got in the way and I prolonged the test. Eventually, my wife and two daughters teamed up on me and convinced me go for the echo test. I am thankful they did as the results indicated that I had a severed mitral valve cord and + 4 severe mitral valve regurgitation.
My general practitioner quickly linked me with a local cardiologist prior to my departure for my daughter's January South Carolina wedding. After a 15 minute detailed phone conversation, my cardiologist told me to go to my daughter's wedding in 4 days, but not to power lift or run a marathon. He said in the event you have any issues or discomfort while in SC go to the emergency room. His final words were, I will see you the day after you return in my office and we will begin a battery of tests. Upon my return, the local cardiologist conducted a TEE and a Cath test. The TEE confirmed my severe mitral valve dysfunction and the Cath test indicated that I had 90% blockage in one artery. I then said to my cardiologist, "Okay let's fix it and when can you start?" His reply was this is out of my league and I recommend The Mount Sinai Hospital and Dr. Adams' team. That afternoon he linked us with Mount Sinai and by 4pm we received a call from Jose, Dr. Adams' office manager/scheduler/guru.
This is where I will begin to expand on my overall top shelf experience at The Mount Sinai Hospital. It all began with Jose, who was VERY compassionate, organized and basically held my wife's nervous hand through the entire journey. Next we met with Dr. David Adams, Dr. Percy Boateng and their Chief Surgical Resident. During our initial meeting, my multiple test results were clearly illuminated on a very large high definition monitor. Dr. Adams clearly and thoroughly explained every detail of my mitral valve dysfunction. We went into our personalized consult in an anxious state. After an hour of confident heartfelt professionalism, we left the meeting relieved and VERY confident.
Things began to move quickly and within 2 1/2 weeks I was in the hospital being prepped for my complex mitral valve/tricuspid repair and bypass surgery. All staff and nursing prep/testing leading up to my surgery was orderly and cordial. I recall be wheeled into a massive stainless steel operating room with a large staff, state of the art equipment, a massive display of surgical instruments and multiple flat screen monitors. An anesthesiologist had a warm conversation with me to help keep me relaxed. I looked at the clock reading 10am and was quickly anesthetized.
I understand I was in the operating room for 9 plus hours and was then transported to ICU. I don't remember much about my ICU stay other than I had a personal nurse who sat by my side for 10 plus hours. She carefully watched and monitored my every move.
I was then moved to a clean hospital room at 7 West, a specialized cardio floor. EVERYONE on this floor was part of a "well-oiled machine". I have to boast about their medical skill sets, care level and their "amazing" people skills. There are so many people to mention, so excuse me if I leave out some names. Rowena Donovan, RN, Jocelyn Brown, RN, Helen Alexandroff, NP, and my PT contact (name slips my mind) all administered wonderful care with awesome bedside manors to boot. An honorable mention goes out to Allan Danglacruz, RN, who cared for me 4 consecutive nights. He was absolutely "outstanding"! I had two very difficult nights, one due to pericarditis (inflammation) and one to high level discomfort and pain. As busy as floor 7 West was, Alan made frequent visits and actually held my hand for almost an hour until my acute inflammation tamed down. He displayed amazingly talented nursing skills and his people skills were exemplary. Kudos to you Alan, you personify the words "top shelf".
Dr. Ana Claudia Costa and Dr. Tara Naib made multiple visits to my bedside during my 5 day stay on 7 West. They were both so welcoming as they coordinated personalized pain management and surgery follow up details with my nursing team. After 7 days and 6 nights I was ready to be discharged. I left the hospital comfortable and did not require any pain killers upon my return home.
In summation, I went into this surgery apprehensive; not knowing what to expect. My wife and I were overwhelming impressed with the entire Mount Sinai Cardiothoracic experience. From introduction/consult, to surgical expertise, to 7 West nursing care; the entire ride was A +.
Please accept my sincere thanks and well wishes for everyone involved in my rebuild. I will be forever grateful for your expertise, care, kindness and unflinching support.
Wishing you all continued success and good health.
Gerard "Jerry" S.
Chalfont, Pennsylvania
Page Created: April 06, 2022 Last Updated: June 03, 2022