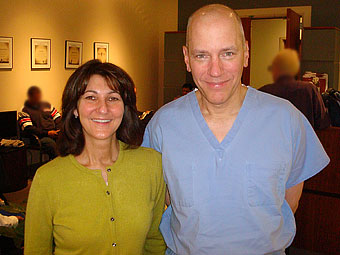 I am 48 years old and I've always had Mitral Valve Prolapse. I went to my regular physician for my yearly physical in July of 2009. He didn't like the sound of my heart and he scheduled me for an echocardiogram. A week later I got a call from my Cardiologist, he told me that I needed open heart surgery. I was shocked but OK.
When I learned what was involved and that I would have a scar down my chest, it upset me. My cardiologist referred me to Dr. David Adams to discuss mitral valve repair surgery.
I had called Dr. Adams' office and spoke with Leemor. She arranged an appointment for me to meet with Dr. Adams. Leemor was on top of things; if I had any questions I would just pick up the phone and she was always there for me.
I went to meet with Dr. Adams on September 2, 2009. He explained what was wrong with me. I had Mitral Valve Regurgitation. Dr. Adams explained the procedure that I would undergo to fix my leaky heart valve. I was very comfortable with his decision.
Dr. Adams reviewed his schedule with me and we chose a date for my surgery – September 18, 2009. I went to meet with Therese King. Terry set up all of my pre-surgical appointments and made sure that everything went smoothly – she even made my hotel reservations for me!
Terry and Leemor took care of any paper work that had to be done. They were both there for me every step of the way and provided me with moral support. When I was in the hospital they even came to visit me – I felt so special!
Dr. Adams performed my open heart surgery on September 18, 2009. He did a mitral valve repair and put a ring around my valve to stop the leak. That Valve is called my "RING OF LIFE" and my scar is "MY LIFE LINE".
Thank you Dr. Adams and the team, you saved my life. If I didn't have a ring or a scar I might not be here to tell my story. The surgery went great. After surgery I went to the ICU where I was treated with the best of care. Thank you Nurse Corazon (Cory) Catlico and all the other ICU nurses. I was in ICU overnight and moved to another floor where I was treated for the next 4 days. While in the hospital I only had to take five pain pills total. Due to the perfect surgery that Dr. Adams performed I never had pain, just a little discomfort.
I was discharged from the hospital on September 23, 2009 and I'm doing very well. I do my walks twice day since the day after I got out of the hospital. I did return twice for my check up and everything was great. Dr. .Adams is my LIFE SAVER. I still remain friends with Leemor. Well, everyone there is my friend forever. The pictures are from six days after my surgery and 5 weeks my scar has healed - WHAT SCAR?????
I am expecting my first grandchild in December and because of Dr. Adams and his wonderful team I will be able to live a long, happy, healthy life!!!!
My Sincere Thanks to Dr. Adams and Team
Jeannie (Jean) M.
Page Created: December 08, 2017 Last Updated: December 18, 2017