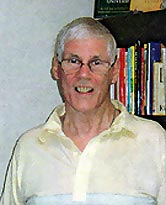 I cannot thank you Dr. Adams and your entire cardiac care staff nearly enough. I am eternally in your debt.
Having gone through the experience of having my New York based cardiac physicians tell me things were well when comparing one EKG from the last one and telling me that there was no change, to being told by one of your staff that my medical condition was more dire was a revelation. Having 3 valves worked on and coming through as I did was miraculous. Thanks to your skill and that of your assisting surgeons I am alive.
The remarkable thing is there was absolutely no pain whatsoever. Some discomfort as I mentioned to you from the tube down the throat and being tied down so I couldn't pull the tube out of my throat. I believe it was an 11 hour operation and then you all waited 3 hours to see if it worked. It certainly did. While I couldn't thank you vocally all the time, I put my thumbs up and smiled when you came in to see me after I recovered. I kept thinking to myself "How do they do it?" The hours on their feet. I remember when you came in at 6:00 am to tell me you were going to do 2 lesser operations "to give me every chance possible". I certainly didn't see those words with any sense of foreboding.
Thanks for everything, for your caring and compassion, for your skills and expertise as staff. I truly owe you my life.
Page Created: December 07, 2017 Last Updated: December 19, 2017