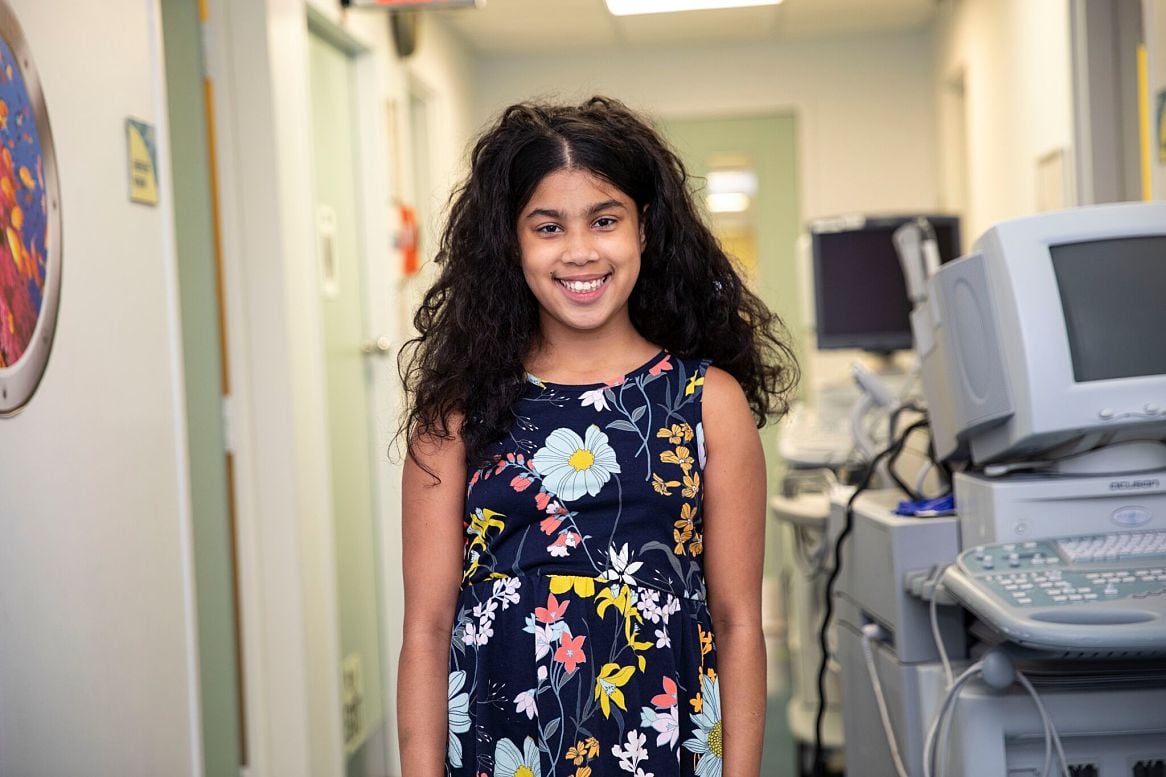 Published in US News & World Report
For 13-year-old Chelsea Polanco, it took a unique collaboration between a pediatric cardiac surgeon and a cardiac expert on the adult side to save her heart—and her life.
When Chelsea came to Mount Sinai Kravis Children's Hospital with signs of mitral valve dysfunction, including fatigue and bloating, she was admitted to the pediatric cardiac intensive care unit within the hospital's Children's Heart Center. After close observation, the team at the Children's Heart Center, an alliance between Mount Sinai and Children's Hospital of Philadelphia, concluded that her leaking mitral valve was causing fluid to fill her lungs and belly. Her condition was not improving.
Complicating matters was the fact that Chelsea was born with a Hypoplastic Left Heart Syndrome (HLHS), a congenital heart defect in which only one heart ventricle, or the main pumping chamber, is functioning.  She had undergone three major surgeries before the age of four, that culminated in rerouting her blood flow, in what's known as Fontan circulation. Bringing deoxygenated blood directly into the lungs and bypassing the heart, Fontan circulation prevents oxygenated and deoxygenated blood from mixing and helps the body maintain near-normal oxygen saturation levels.
But, as with most Fontan patients, the new circulation did not completely eliminate stress on the heart. Chelsea's mitral valve, her only functioning heart valve, was overworked and weakened. If the problem was not treated, she would likely suffer irreversible heart damage.
The team conferred with Peter Pastuszko, M.D., chief of Pediatric Cardiac Surgery. Everyone agreed: surgical repair of Chelsea's mitral valve was the best course of action.
Mitral valve repair is preferred over valve replacement in any age group, particularly children and young adults, for many reasons.  Repairing the valve provides significantly lower perioperative risk, improved preservation of left ventricular function, enhanced chances of survival, and fewer prosthesis-related complications. When it comes to mitral valve repair, the evidence is clear — higher volume is associated with better outcomes.  However, most surgeons in the United States perform less than 10 mitral valve operations per year.
Fortunately for Chelsea, pediatric patients at Mount Sinai have access to the full resources of The Mount Sinai Hospital, and Dr. Pastuszko reached out to his colleague David H. Adams, M.D., director of the hospital's Mitral Valve Repair Reference Center. Dr. Adams, who is also the Mount Sinai Health System's Cardiac Surgeon-in-Chief, performs 400 mitral valve operations per year and is world-renowned for his pioneering work and outcomes in valve reconstruction. 
On the day of the surgery, Dr. Pastuszko and Dr. Adams worked side by side, embodying the collaborative approach fostered by Mount Sinai Kravis Children's Hospital's status as a hospital within a hospital.
"It was critical to Chelsea's well-being that Dr. Adams was there for the complex part of the operation, repairing her mitral valve leaflet," Dr. Pastuszko says. "With Dr. Adams, we're giving Chelsea the best chance possible." 
Dr. Adams was pleased to collaborate on the case.  "Replacing the mitral valve in a 13-year-old patient would be setting her up for a lifetime of prosthesis-related problems. By repairing the mitral valve, we have given Chelsea the opportunity to experience the best possible long-term outcome."
A few days after her surgery, Chelsea was able to go home. Her energy is up and she even took a trip to Walt Disney World with her family.
Chelsea continues to have follow up care and regular echocardiograms at the Children's Heart Center. Three months after her mitral valve surgery, a routine echocardiogram revealed a small amount of fluid behind her heart. While this is considered normal post-operatively, the team is watching her closely.
Managing congenital heart defects and related complications is often a lifelong journey, but with the Children's Heart Center team at her side and the full resources of The Mount Sinai Hospital down the hall, Chelsea is in expert hands.
View the full story here:
Page Created: Feb. 28, 2019 Last Updated: Mar. 11, 2019