Academic Event
2023 AATS Annual Meeting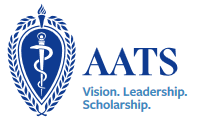 The world's most prestigious thoracic surgery event. Grow your expertise, network with leading experts, and help build the future of thoracic surgery.
AATS has more than 100 years of history in shaping the evolution of cardiothoracic surgery. Experts unite at the Annual Meeting which has truly become the past, present, and future of the field. Each year, attendees from around the world are steadfast focused on excellence, leadership, scholarship, and innovation with a commitment to action and long-term positive change.
The 103rd Annual Meeting will reunite surgeons in-person to have discussions, ask hard questions, hear new perspectives, and build on each other's work.
Page Created: February 09, 2023 Last Updated: February 09, 2023