Academic Event
2022 AATS Annual Meeting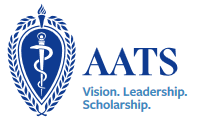 AATS has more than 100 years of history in shaping the evolution of cardiothoracic surgery. Experts unite at the Annual Meeting which has truly become the past, present, and future of the field. Each year, attendees from around the world are steadfast focused on excellence, leadership, scholarship, and innovation with a commitment to action and long-term positive change.
The 102nd Annual Meeting will reunite surgeons in-person to have discussions, ask hard questions, hear new perspectives, and build on each other's work. AATS continues to provide the best of in-person and virtual education, therefore content will be available on a virtual platform as well.
Reasons to Participate
Meet with experts in your field and have meaningful conversations face-to-face;
Learn from experts on how they optimize and even revolutionize exceptional treatment;
Immerse yourself and your team with cutting-edge information from diverse expert speakers;
Contribute the research and knowledge that will build the future of thoracic surgery;
Choose from multiple parallel tracks that focus on specific aspects of adult cardiac, thoracic, congenital, and perioperative specialties;
Participate in panel discussions where surgeons from around the world share the challenges and solutions being implemented;
Take action and learn how to apply wellness—not only individual wellness, but the wellness of our specialty and the global community at large;
Earn Continuing Medical Education (CME) credits to advance your career.
Program Coming Soon
Page Created: Dec. 16, 2021 Last Updated: Dec. 16, 2021