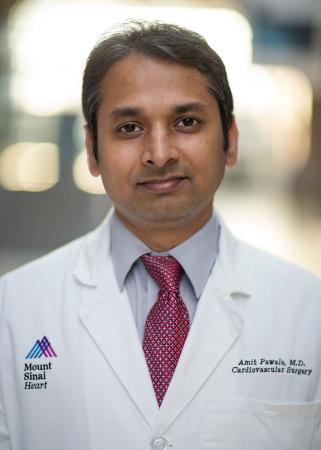 Amit Pawale, MD
Amit Pawale, MD
Assistant Professor
Associate Director of Heart Transplantation
and Mechanical Assist Devices
Department of Cardiovascular Surgery
Icahn School of Medicine at Mount Sinai
Amit Pawale, MD, performs a wide spectrum of adult cardiac surgical procedures including mitral valve repair, aortic surgery, coronary artery bypass surgery and has a special interest in minimally invasive cardiac surgery. In 2015, he was appointed Assistant Professor of Cardiovascular Surgery at the Icahn School of Medicine at Mount Sinai. Dr. Pawale is also Associate Director of Heart Transplantation and Mechanical Assist Devices at The Mount Sinai Hospital.
Dr. Pawale's training is in the field of mitral valve reconstruction, specializing in minimal access mitral valve repair surgery under the guidance of Dr. David H. Adams. He has also trained with Dr. Anelechi Anyanwu, Professor and Vice Chairman, Surgical Director of Heart Transplantation and Mechanical Circulatory Support, in the all aspects of heart transplantation, mechanical assist devices therapy (LVAD) and total artificial heart implantations. In addition, Dr. Pawale trained with Dr. Paul Stelzer in aortic surgery and aortic root procedures including Ross procedures, homograft root replacements and valve sparing root replacements.
Dr. Pawale is Board Certified in Thoracic Surgery from the American Board of Thoracic Surgery.
Dr. Pawale graduated from Krishna Institute of Medical Sciences, Karad, India in 2001. He was trained in Cardiothoracic Surgery in England from 2004 to 2009 at Royal Brompton- Harefield NHS Trust, Harefield Hospital, London and Freeman Hospital, Newcastle Upon Tyne. During this period he was trained in coronary artery bypass surgery including off pump coronary artery bypass grafting, using bilateral skeletonized internal mammary arteries; valve replacement procedures and heart and lung transplantation.
He received the Fellowship of the Royal College of Surgeons in Cardiothoracic surgery (FRCS CTh) at Edinburgh, UK in 2009. Dr. Pawale completed his Cardiothoracic Surgery residency at the Icahn School of Medicine at Mount Sinai in New York from 2010 to 2015.
Page Created: Jan. 02, 2018 Last Updated: Aug. 16, 2019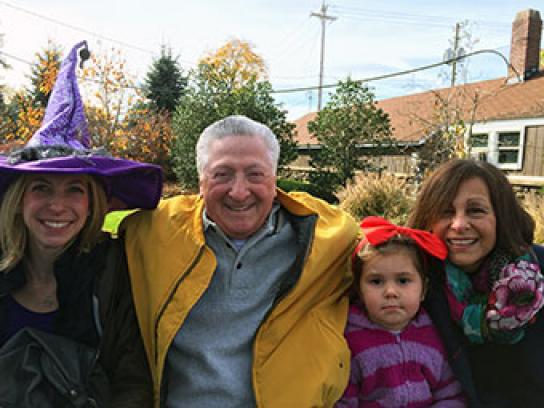 Kenneth P.
New Jersey
My cardiologist told me that I needed someone very special to handle my mitral valve issue. That someone was you. "
Read Story